Introducing BlueMind: Empowering Advisors with the Digitized Relationship Edge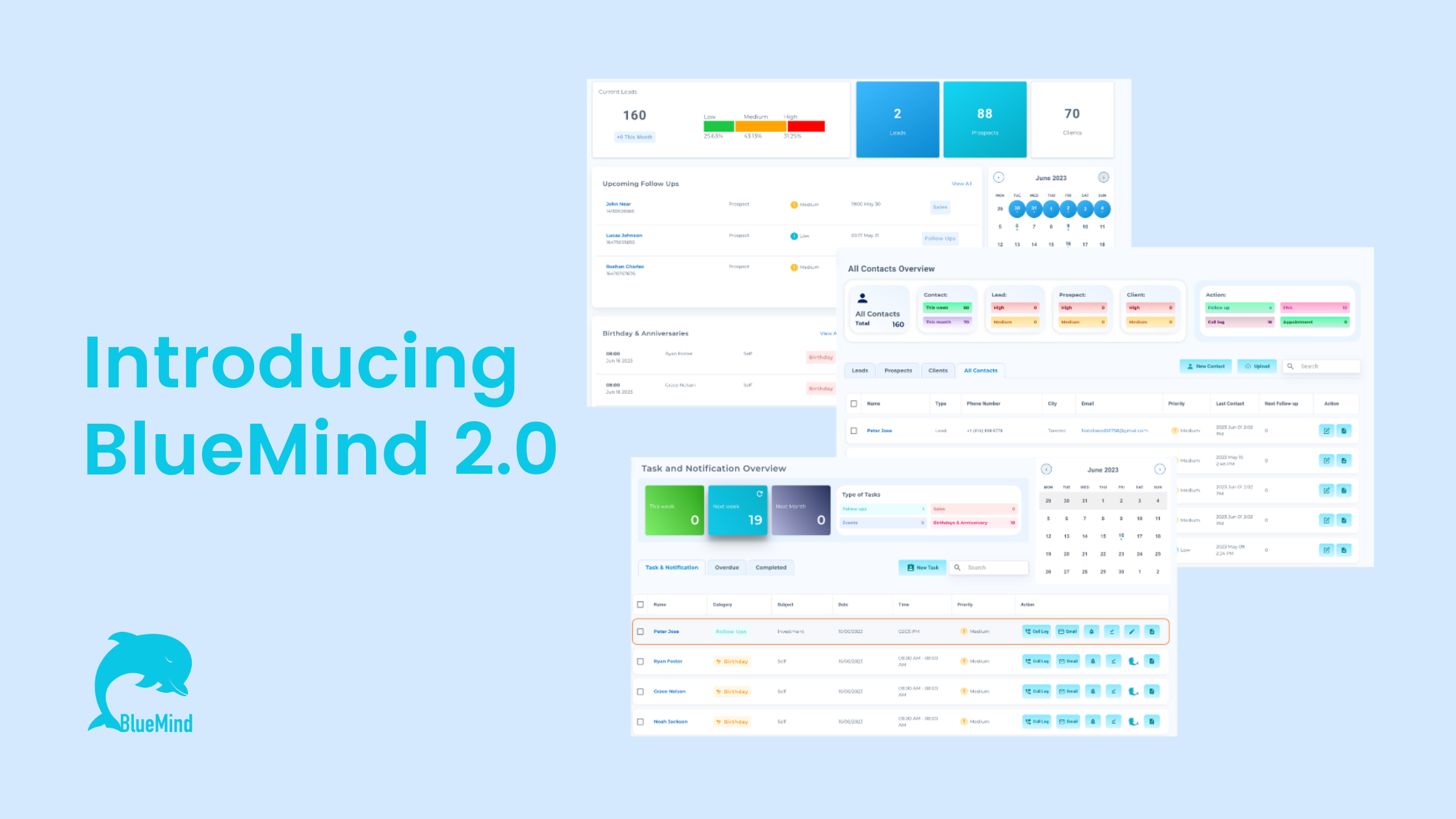 We are thrilled to announce the launch of BlueMind, a groundbreaking application that revolutionizes the way insurance and financial advisors operate in North America. With BlueMind, advisors can finally reclaim their true purpose as trusted advisors and confidants to their clients, while leveraging the power of technology to build deeper customer relationships and automate non-value-added tasks.
Built by advisors for advisors, the BlueMind team intimately understands the demands and challenges faced by those in the industry. As BlueMind founders Ahilan & Meena say "We saw an opportunity to address these pain points and provide a solution that enables advisors to focus on what they do best: advising and guiding their clients towards financial success."
So, what exactly is BlueMind? It's an easy-to-use, AI-powered platform that serves as a productivity game-changer for insurance and financial advisors. Gone are the days of inefficient, complex, and generic software tools, processes, and workflows. BlueMind eliminates the unnecessary clutter and replaces it with a streamlined, intuitive interface designed specifically to meet the unique needs of advisors.
Ahilan Balachandaran, Founder & CEO says "BlueMind was born out of our own experiences as advisors in the industry." Akil added, "we understand the challenges and demands that advisors face daily. With BlueMind, we aim to empower advisors to reclaim their craft and focus on what truly matters - building strong relationships and providing personalized advice to their clients." In closing Akil shared, "our platform combines technology and personal savviness to amplify advisors' capabilities and streamline their operations. We are excited to launch BlueMind and revolutionize the way advisors operate in the digital era."
BlueMind is not just another CRM. It's a comprehensive platform that empowers advisors who find themselves drowning in paperwork, struggling to compete without adequate technology support, unable to keep up with growing customer demands, and yearning to build personal and digital relationships while ensuring compliance and peace of mind.
With real-time AI capabilities, BlueMind brings a range of benefits to advisors:
Automated Compliance: BlueMind sets the new standard for compliance in the industry. Our platform meets international standards, ensuring that advisors can navigate the complex regulatory landscape with ease.
AI-Powered Behavioral Analytics: BlueMind incorporates a powerful AI-driven behavioral analytical model that helps advisors scale their practice. By leveraging data and insights, advisors can make informed decisions and optimize their strategies for success.
Enhanced Security Protocols: We understand the importance of data security, which is why BlueMind features enhanced security protocols. Advisors can trust that their clients' sensitive information is protected at all times.
Task Reminders and Automations: BlueMind simplifies the daily workflow of advisors by providing task reminders and automations. These features streamline operations and ensure no critical tasks slip through the cracks.
Flexible Client Management Portal: Our platform includes a flexible client management portal that enables advisors to effortlessly organize and access client information, facilitating better communication and personalized service.
Financial Needs Analysis Tool: BlueMind's financial needs analysis tool equips advisors with a comprehensive solution to assess their clients' financial goals, identify gaps, and recommend suitable products and services.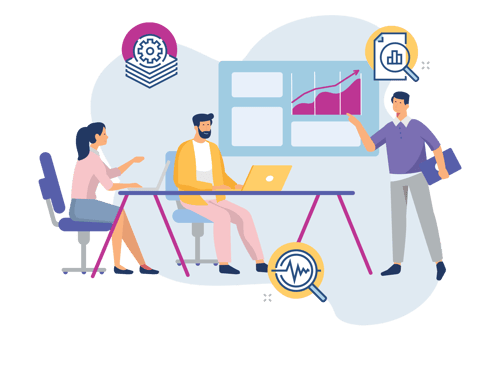 "BlueMind is the result of our unwavering commitment to supporting advisors in their journey to success. As a team of advisors ourselves, we recognized the need for a platform that goes beyond generic solutions and truly understands the unique challenges faced by advisors. With BlueMind, we have created a game-changing platform that leverages AI and intuitive design to streamline workflows, deepen client relationships, and ensure compliance peace of mind. Our vision is to empower advisors to excel in their roles, providing them with the tools they need to thrive in today's fast-paced and tech-driven industry." - Meena, Co-Founder & CPO.
At BlueMind, our ultimate goal is to amplify advisors' capabilities by seamlessly combining their expertise with cutting-edge technology. To celebrate our launch, we are offering introductory pricing, allowing advisors to get started with BlueMind at an unbeatable value.
Join us in this exciting journey as we empower advisors across North America to get back to what they do best: providing high-quality, personalized 1:1 advice and service to their clients. Together, we can revolutionize the industry and elevate the role of advisors in the digital era.
To learn more about BlueMind and take advantage of our introductory pricing, visit our website at www.bluemind.app. Get ready to embrace the Digitized Relationship Edge and unlock a new level of success in your advisory practice.